Deals, Products and Companies
This category contains all the posts related to local companies, and to products and gear. This may include gear reviews, new products on the market, sales, gear swamps, and contests that are running on Outdoor Vancouver.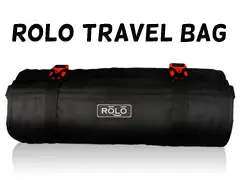 If you're a frequent traveler then one of your biggest concerns is obviously packing. For many, packing is always a downside to traveling. I recently found a new Kickstarter-funded product that is making minimalist travel a breeze – the Rolo Travel Bag. One of the more popular minimalist packing solutions today are space bags, which are designed to […]
Icebreaker is an outdoor and sport clothing company out of New Zealand. Expanding to Canada just a few years ago, they have garnered a huge reputation for the quality of their clothing and their value. The Icebreaker 'secret sauce' is their merino wool fibres, as their own website boasts; Our merino combines the best qualities of […]
109 Walks In B.C.'s Lower Mainland guidebook has been out since 1976, and is a staple on the bookshelves of many casual hikers and walkers around Vancouver. The book went through a revision in early 2014, and I got my hands on a review copy of this current 7th edition.
---
Last week I went on an Sea Safari Eco-Tour with Sewell's Marina out of Horseshoe Bay. The Sea Safari tour is a two-hour boat adventure that takes you all around Howe Sound to view the beautiful coastal scenery and ocean wildlife just off Vancouver's shores.
I recently compiled a list of the 10 Best iPhone and Android Apps for Exploring the Outdoors – from geocaching to running to birding. In this post, I wanted to highlight the local apps we have access to here in the Lower Mainland, which can help get us outside.
Sometimes the best part of getting outside is turning off your phone and getting away from technology. But there are definitely times where your phone can open up new activities, or put needed information at your fingertips. Here are the 10 best apps for getting outdoors.